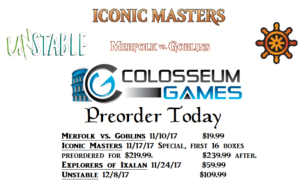 Magic has some great releases left for this year and you can now preorder them with us! Be sure to reserve your product now!
Merfolk vs. Goblins           Release: 11/10/17           Cost: $19.99
Iconic Masters Release: 11/17/17
***Special, the first 16 boxes preordered will be at $219.99. All preorders after this will be at the standard $239.99.
Explorers of Ixalan           Release: 11/24/17            Cost: $59.99
Unstable                             Release: 12/08/17           Cost: $109.99